V
alues we can teach the next generation 
If there's one thing we've all been gifted in the last few weeks more than ever before, it's time. As a working parent, the prospect of more time at home would normally be a great thing, but in this instance, more time at home = less time to get on with the day job. As parents, we juggle a dual role.  
Suddenly, our work and personal lives are intertwined. We find ourselves typing with one hand and serving breakfast cereal in the other; trying to make a quick coffee before the next (filter-tastic) Zoom call, all whilst setting up a Peppa Pig viewing. Not forgetting trying to get the bubble machine working in the garden for just a few minutes of entertainment before jumping onto a 1-2-1 review meeting (bubble machines are a must in our house for any occasion, not just lockdowns!).
I came across a quote a few days ago that perfectly summarises the life we're all living; 
You are not working from home; you are at your home during a crisis trying to work.
The juggle is real
,
 but you're not alone…
Unsurprisingly, Google Trends saw a huge global peak in searches around 'working from home with kids' during the first two weeks of March, the eye of the lockdown storm. The search term 'entertaining kids' has since resulted in another peak as parents everywhere frantically look for things to keep their little ones amused without them turning into Disney+ zombies. 
The working from home juggle isn't new. We shouldn't forget the greatest WFH moment ever from 2017, when Professor Robert Kelly's then four–year–old daughter swaggered into view during a video interview with the BBC. This was swiftly followed by his baby making an appearance in his walker, followed by his panicked wife trying to remedy the situation.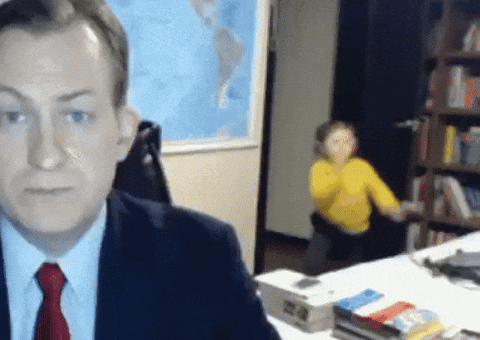 It's a great parody to what many of us are currently experiencing during lockdown, and it's a great one to make you smile in the toughest of times. (These working from home memes are also great). 
What parents are being asked to do is not humanly possible. There is a reason we are either a working parent, a stay at home parent or a part-time working parent.  Working, parenting and teaching are three different jobs that cannot be done at the same time. Not because you're doing it wrong, but because it's too much.
Let's do the maths. Most workdays are 8 hours, the average school day is 6 hours and the average parenting day is 12 hours, so that's 26 hours in a 12-hour day – you are not failing, it's genuinely just a lot!* 
Okay, you're a working
parent
, so what?
Like me, you might not feel like you're achieving much of a work/life balance right now. BUT if there's one thing we can take some light relief from, it's this…On Thursday 23rd April, it's take your daughters and sons to work day!  
We don't really have a choice I hear you mutter. No, you're right, we don't. But, in amongst all of the stress, angst and pressures to make sure everyone eats healthy, stays active etc., perhaps for a day we can set all of this aside.  
Why not use it as a day to share valuable life and business lessons with our children on the likes of flexible working, collaboration and connection? 
Working from home is the new norm and it's expected to become even more so as a result of everything that's going on. The next generation will perhaps only know of their mums and dads working from home. 
So, like
 all good leaders, parents 
must lead with integrity and empathy
It's tough, I know, but bear with me. There are lots of parallels to be drawn between what makes a great leader and a parent.  
Vision and strategy are key, emotional intelligence a must. The ability to motivate and inspire essential. And the willingness to have a positive, can-do attitude, as well as flexibility in abundance should be top of the list!  
Many of our great leaders are testament to this. Think Michelle Obama, Karren Brady and Dr Hannah Fry.  Parenting FlexAppeal campaign guru, Anna Whitehouse aka MotherPukka, shouldn't be forgotten. They are kicking ass. 
So, in a bid to support our 'new normal' and the 23rd April national holiday, I thought it might be useful to throw in my tuppence worth and share the working from home values I hope to instill…
Be your team's
 biggest cheerleader
The role of a cheerleader is to raise a team's spirits. Never has this skill been more important. Rallying the troops remotely is not easy and communication is key in making this a true success. Thank goodness for Zoom.  
Just like it's important to support your teams, raising your children's spirits during this time of immense change will probably never be forgotten. Encourage compassion, encourage connectivity. 
Perfect examples of this are the communities across the nation who've come together to raise each other's spirits. From decorating their streets with rainbows to showing their appreciation to our NHS and frontline staff. Imagine if this team spirit was maintained? We can certainly try within our own four walls. 
Embrace
differences
We all learn in different ways. In the business world, we often take tests to assess our personality types in the hope we can have our team's balance 'just right' (I really like this Disney themed one for a bit of fun!).  
At home, embracing learning styles might take a slightly less serious approach, but regardless of this, do what you can to encourage different opinions and viewpoints. Encourage listening and questions (although they can get slightly grating if you're being asked 'why' by a toddler a million times a day. Take a breath and carry on).  
Provide a platform to shine
It's not rocket science; employees will experience a better quality of work life when they're able to shine at what they do best. The same could be said during the mayhem of the lockdown. When nursery or school tasks aren't being completed but other valuable life lessons are being experienced, embrace it.  
Boost your team and family's spirits by helping them find their groove. Everyone has a place, and with the right guidance can help to make a significant difference. 
Share ideas
Share ideas – big ones, little ones, huge ones. Ideas are what make us tick, progress, move on, adapt, create and reconfigure. Take yourself (and your family) on a creative journey – there's no better time to embrace lots of newness and at home experiences. 
Be
f
lexib
l
e
Never has there ever been the need for businesses to change and adapt so swiftly.  
With advice changing every day, businesses must be fleet of foot to reflect the mood of the world, nation and community.  
Flexibility is key in supporting ever changing client requests, just as it is in being able to show your wee ones you're still there for them – their little worlds have turned upside down too. 
Hang in there, soldier!
Encouraging your kids to understand that you're still a working parent shows real strength, so wear that badge with honor and pride. One day we'll look back on this being a time for creating marvellous memories. 
 If all else fails, just watch this video again and LOL. 
 *Yardies are lucky as Yard is really supportive of flexible working and quarantine life in balancing work and family 😊